#NZWF19 Programme

Here's our 2019 programme. We're adding presenter bios here as we announce them. Please check back or follow our social media channels to keep up to date with any late changes.
You can download a pdf of the festival programme by clicking the image below.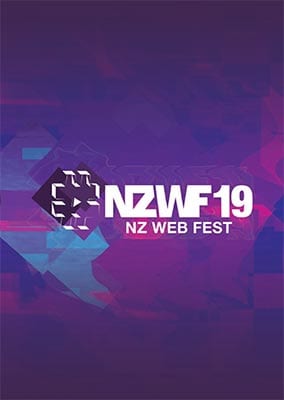 Theatre
Screening 1
Screening 2
9.30AM: Doors Open
9.50AM: Welcome
10AM: The Cheque's in the Mail
Teasers, trailers, binge drops, staggered releases, long tails, diminishing returns, prequels and sequels and spin-offs.
What strategies maximise opportunities for creators to generate a return from web series?
Presenters:
Holly Shervey, Auckward Love, Millennial Jenny
Peter Haynes, AFK, Ao-terror-oa
Tupe Solomon-Tanoa'i, Misadventures of a Pacific Professional
10AM: Growing Pains
"Wanna hang with the big boys and play with the big toys
And be with the people making all that goddamn noise"
10AM: Perfect Day
"Oh, it's such a perfect day,
I'm glad I spent it with you"

Theatre
Screening 1
Screening 2
11AM: It Must be True
Less than a decade ago there was very limited funding and broadcaster interest in local factual content. Now NZ factual content is booming online.
Is there a renaissance, have our viewing habits changed, or is factual content just cheaper to make?
Presenters:
Brian Holland, Magnetic Pictures, K Rd Chronicles
Crystal Vaega, Tiki Lounge Productions, Daughters of the Migration, HousieWives, Legendary Polynesia
José Barbosa, The Spinoff, Get It To Te Papa
Moderator:
Dan Shanan, Doc Edge
11AM: How Bizarre
"It's making me crazy
Every time I look around"
11AM: Kill This Love
"What should I do?
I can't stand myself for being so weak"

Theatre
Screening 1
Screening 2
12PM: The Grass is Greener
International creators discuss the pros and cons of making shows in the cultural and funding environments they work in.
Presenters:
Asmara Bhattacharya, Middle of Snowhere (USA)
Cam Faull, Swipe Right (Australia)
Herman Wang, The Spell Tutor (Canada)
Moderator:
Lanita Ririnui, Poi 360, Poi Hopes & Dreams, Fan Girl (NZ)
12PM: This Time (I Know It's For Real)
"What would I have to do,
To get you to notice me too?"
12PM: That's My Girl
"You got to get up and get it.
Get mad independent,
and don't you ever forget it"


Theatre
Screening 1
Screening 2
2PM: Last Breath
A case study of award-winning Australian anthology series Last Breath. The show was created by Melbourne-based collective of female actors, directors, writers, producers, theatremakers and filmmakers, Girls Act Good, in association with F Word Films.
Last Breath is nominated for two awards at #NZWF19.
Presenters:
Jennifer Monk, founder, Girls Act Good
Kelley Kerr Young, Girls Act Good
Shanon Kulupach, Girls Act Good
2PM: Save The World
"We're far from home,
It's for the better.
What we dream,
It's all that matters"
2PM: Homesick
"You give me a reason
Something to believe in
You give me a meaning
Something I can breathe in"

Theatre
Screening 1
Screening 2
3PM: Rainbow Warriors
Creators of LGBTQ+ content on the opportunities and challenges.
Presenters:
Gary Daniels, Eating with Soula
Jake Pitcher, Touch Wood
Rose McMahon, In the Rainbow
Moderator:
Nikki Si'ulepa
3PM: Purple Rain
"Never meant to cause you any trouble
Never meant to cause you any pain…"
3PM: Hard To Be Humble
"I can't wait to look in the mirror
'Cause I get better looking each day"

Theatre
Screening 1
Screening 2
4PM: World Premiere: Loner
Creator Lauren Porteous presents the world premiere screening of dramedy web series Loner.
Charlotte's best-friend Mel convinces her to come out of her shell. At a party she meets someone, a spark flies but is soon snuffed out. But is that the end or the beginning?
Followed by Q&A.
4PM: Opposites Attract
"Baby, it seems we never ever agree
You like the movies and I like TV"
4PM: Scary Monsters
"When I looked in her eyes,
They were blue but nobody home,
She could've been a killer,
If she didn't walk the way she do."

10AM – 5PM: Whatever You Want
These selected shows are available to watch on demand during the day

7.30PM, THEATRE: #NZWF19 AWARDS
Join our hosts Emmett Skilton and Soula Marie as we reveal and celebrate the winners of our NZ and International award categories. Doors open 7pm.
See the full list of nominees here